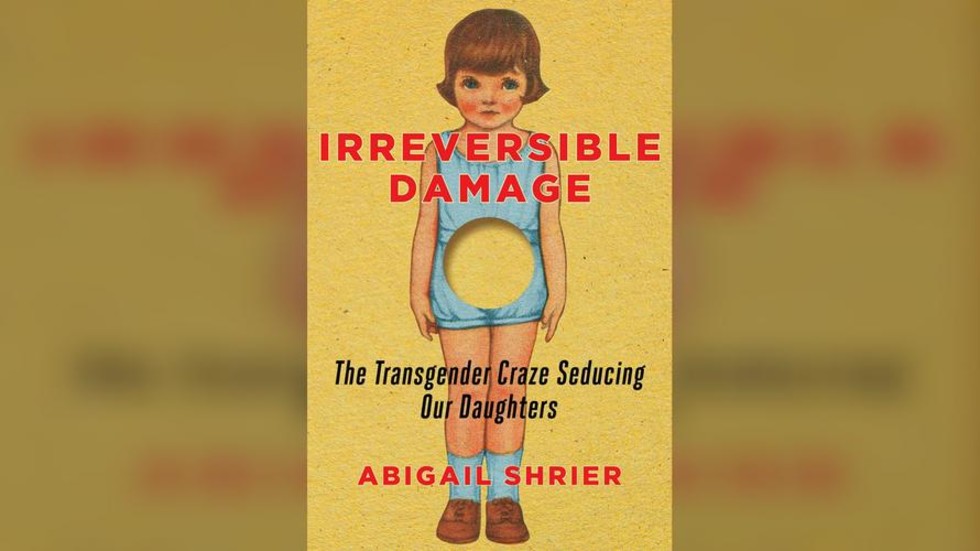 Amazon will continue to sell a controversial book slammed by some critics as "full of misinformation" and with the "potential to hurts transgender youth" — despite an internal complaint filed by a group of employees.
According to The Seattle Times, last month dozens of employees backed a complaint arguing that the book "Irreversible Damage: The Transgender Craze Seducing Our Daughters" violated the company's policy against selling titles "that frame LGBTQ+ identity as a mental illness."
Leaders of the company's LGBTQ affinity group — Glamazon — also urged the tech giant to stop selling the book, according to Slack messages viewed by the paper.
"As a proud Amazonian and a queer person, I invite Amazon to do the right thing and remove this book from our offerings globally," an employee wrote in the initial complaint.
The book, written by Wall Street Journal opinion columnist Abigail Shrier and released in June, 2020, suggests that transgender youth "are not truly transgender, but rather just confused," according to Dr. Jack Turban, an adolescent psychiatry fellow at Stanford University School of Medicine.
Writing for Psychology Today in December, Turban slammed the book as "full of irresponsible journalistic practices and outright falsehoods."
"Abigail Shrier's essential book will help you understand what the trans craze is and how you can inoculate your child against it — or how to retrieve her from this dangerous path," a description of the book on Amazon reads.
The book's central premise is that transgender youth are being rushed into gender-affirming health care, which is something they will later regret, according to Turban.
Last year, Turban served as the lead author in a study that found that transgender adults who had access to pubertal suppression treatment during adolescence had lower risks of suicidal thoughts during their lifetime.
The results seemed to confirm previous evidence that offering gender-affirming medical care for transgender youth can lead to a lifetime improvement of mental health for transgender adults.
The study, published on Jan. 23, 2020, provided "evidence in the context of lingering questions among some health care professionals and in the general public about the purpose and mental health implications of pubertal suppression," Dr. Alex Keuroghlian, the study's senior author, told the Daily News at the time.
"Irreversible Damage" has been pulled off Target's online bookstore twice. The first time was in November 2020. However, after conservative commentators slammed the move as "spineless," the retailer started selling the book again "to offer a broad assortment for our guests."
The book was "suddenly gone" again from the online store in February, according to a tweet by the author.
Earlier this year, Amazon announced it would no longer sell books framing LGBTQ identities as mental illnesses.
The announcement came after four GOP senators — Marco Rubio (Fl.), Mike Lee (Utah), Mike Braun (Ind.) and Josh Hawley (Miss.) — wrote a letter to Amazon CEO Jeff Bezos protesting against the company's "censorship of conservative books and assault on free speech."
The four lawmakers questioned the retailer's decision to remove the book "When Harry Became Sally" from the Amazon website, Kindle, and Audible platforms — which they saw as "an assault on free speech that carries weighty implications for the future of open discourse in the digital age," and they requested some answers about the retailer's decision.
Amazon's VP of public policy Brian Huseman sent the senators a response letter explaining that the company provides its customers with a variety of books, including some that some customers may find objectionable.
However, Huseman continued, "we have chosen not to sell books that frame LGBTQ+ identity as a mental illness," he said, using the acronym that includes any other gender or sexual identity.
"We reserve the right not to sell certain content," he wrote. "All retailers make decisions about what selection they choose to offer, as do we."
According to The Seattle Times, late last month, Amazon's director of book content risk and quality posted the company's decision to continue selling "Irrevestible Damage."
"Amazon has an internal process for evaluating the appropriateness of books and we have shared your feedback," the director wrote on April 23. "In this case, the process included gathering feedback from Glamazon board members and the Books Diversity, Equity, and Inclusion team. After examining the content of the book in detail and calibrating with senior leadership, we have confirmed that it does not violate our content policy."
According to Slack messages shared with members of the Glamazon group, one board member said that, "We were consulted. We told them [the book is] transphobic and needs to be removed."
Earlier this year, more than 200 people sent a letter to the Ottawa Public Library in Canada protesting the "transphobic book."
Elm Klemic, a parent of four, told CTV News Ottawa that their "six-year-old has told us since age three that they're not a boy or a girl and they present themselves as pretty gender non-conforming."
"As somebody who identifies within the trans spectrum and as somebody who has a trans child as well, it hit close to home and I was really outraged about it," Klemic said. "The main theory in this book is that trans youth don't know themselves, and can't, shouldn't be allowed to transition."
Source: New York Daily News